Increase their profits and percentage of winning trades with Technical Analysis 101 comes with 2 Bonus!



Click to enlarge

Price:

$305

$26

Availability:
In Stock
Model:
103
Manufacturer:
Missionforex
Average Rating:
Not Rated



Mark Seleznov – Technical Analysis 101

Traders have been using technical analysis for years to increase their profits and percentage of winning trades. Based on the basic law of supply and demand, learning how to read the chart provides you with the ability to understand what a stock is going to do before it happens.
Mark Seleznov teaches you:
- How to read barcharts
- Skills that allow you to beat the market makers using technical indicators
- What the volume of a stock tells you and how to profit from it
- How you can avoid getting out off a position too early
Also covered in this powerful resource are the tools needed to enter and exit the market at the right times, improving your profits through bigger wins and smaller losses. Seleznov uses his experience trading with technical analysis to explain how to integrate these strategies with your personal trading style.
Package:

....with Bonuses:

Bonus No 1:

No Repaint Metatrader Indicator *W3bCross* Profitable MT4 Forex Trading System!
Wb Crossover System
Professional Metatrader Forex Trading System

(Not an EA this is a Manual Trading System)
The Best Forex Indicator Ever Invented
Cut losses and let profits run - this is the way how trade the professionals. Letting your profits run is the only way you can cover the cost of your losses and this is not as easy as it sounds. The emotion of fear comes into play here. The bigger the profit becomes, the more a trader wants to take it. One needs a definite strategy that is easy to follow.

Free World Wide Shipping Via Email Within 24 Hours
This is a revolutionary TREND-FOLLOWING indicator
Works in any timeframe and in any FOREX pair, Commodity or Stock!
Absolutely NO THINKING is needed, just buy when Green and sell when Red!
Smart Self-Optimized for All Timeframes 1M, 5M, 15M, 30M, 1H, 4H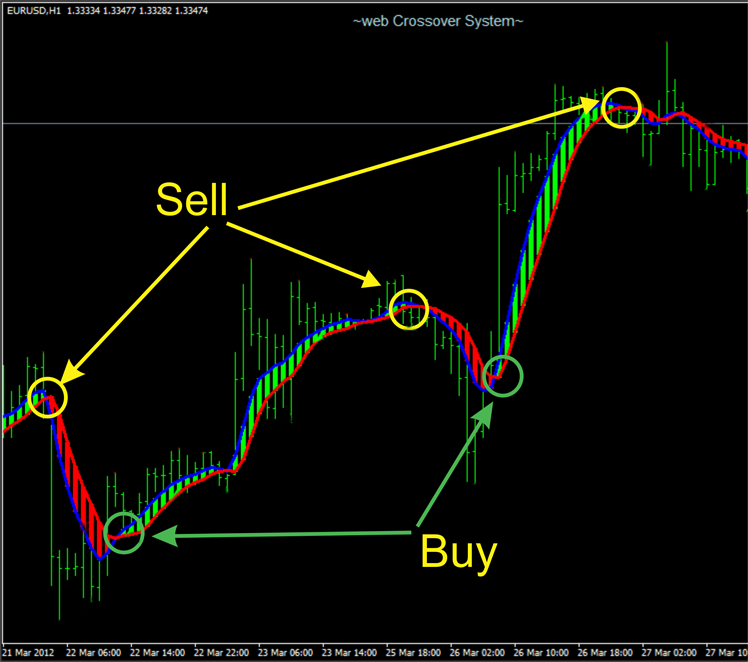 Never Trade Against Trend
Most of my clients returned this investment in their first trade!
Web Crossover System
DOES NOT REPAINT

Profit Maximize Point Indicator with
Sound Alerts Enabled
Email Send Alerts Enabled
How the Wb Crossover System Will Help You
1) Profitably Scalp or Swing Trade in Any Time Frame with Precise Accuracy.

2) Optimized for Currency Trading: Probably the Best Indicator for Profitable Forex Trading.

3) Never Miss Any Profitable Trade.

4) It takes all emotion out of trading – Emotion is often considered as one of the biggest flaws of individual traders. Traders who are unable to cope with losses second guess their decisions and end up losing money. By strictly following the Web Crossover System Indicator you can forget the need to make any decisions.

5) It gives you an edge – It gives you an advantage over other traders. You will be able to spot entry setups and the end of the moves before other traders do. You will avoid chasing the market. You won't enter a trade too late and you won't get out of a trade too early. You will be able to read the market and make profit consistently.

6) It makes money – You can control and grow your money by working a few hours a day or week on your computer.

7) You don't even need to stay at your computer : Web_Breakout Indicator automatically alerts you when Profit goes optimum point , and even sends you an email, so you have got the whole day to yourself. You can go out, spend time with your family, and spend your money - and let Web Crossover System call you when there's a trades!

Only a Limited Number of Indicators Will Sold !
Most trading systems fail to deliver results, because they are focused on one specific pair of timeframe, and if that pair changes - they lose money. A lot of money. Web Crossover System doesn't have this problem - it works on any timeframe, on any chart and on any pair! You could also trade it on the Gold, Oil or any other commodity! Just put this indicator and your work is done. It also works in several trading platforms - MetaTrader 4® and NinjaTrader® so even if you trade Stocks, Commodities or Futures - you can profit and win with Web Crossover System .
I'm not selling a robot or an automated trading system as I firmly believe that each trading strategy is as unique as the trader who uses it. Nor am I going to promise or guarantee any unrealistic returns. Instead, I am offering the software tools that will enable you to build highly personalized, profitable trading strategies which are catered to your style and experience, money management, and needs.
W3b Crossover System POWERFUL INDICATOR TRADING SYSTEM is comprised of 2 indicators, when combined and compounded, became very powerful trading systems.
WHAT YOU GET
Your purchase WEB CROSSOVER INDICATOR TRADING SYSTEM includes the following:
2 system indicators.

1 template.

Bonus No 2:

Myl3s Wils0n Wa1ker - WD Ganns Master Time Factor - AVI

English | 3h 17mn | 720 x 480 | AVI Camtasia 1767 Kbps | PCM 144Kbps | 1.54 GB
Genre: eLearning

This Video Course on DVD will demonstrate step by step how you can use the Master Time Factor for any market. Even if you are a total novice, the clear explainations will leave you in no doubt how to find the pulse of the market.

A question that crosses many Traders minds at one time or another is,
" How do I find the cycle for a specific market?"
Most markets do have totally different dates as highs and lows.
WD Gann said that he found a Master Time Factor that allowed him to time individual markets highs and lows.
In My new DVD I will show you exactly how to precisely time highs & lows just like WD Gann.
Not only that I will teach you how to trade with the trend between these timing dates.

Rather than reading, I think it's much easier to watch exactly how it's done. Written words can be misinterpreted whereas a video can be played as many times as is necessary. By watching the videos you can see clearly every little detail in getting the correct time cycles. There is a tremendous amount of good material that will leave you in no doubt how to find the turning points yourself. Everything is on the screen so you can follow through as I explain exactly what is happening. What I show on the videos is exactly how to get the timing points, also how I determine if they should be traded and then how I actually trade them. After all, the practical application of timing with regard to trading is our whole reason for acquiring this knowledge.
package:
Buy 1 Get 2 More Now At Good price!

---
Write Review
Your Name:
Your Review:
Note:

HTML is not translated!
Rating:
Bad
Good
Enter the code in the box below:
There are no additional images for this product.