P/W forex Trend indicator and Manual (Enjoy Free BONUS True Trend Line indicators with divergence and TrueTL expert advisor)



Click to enlarge

Price:

$86

$19

Availability:
In Stock
Model:
TC020wsctnt
Manufacturer:
Missionforex
Average Rating:



Fool-Proof Indicator To Consistently Pull Pips From The Forex Market...
"Unique, Revolutionary, Powerful Forex Trend Indicator That's Amazing And Stunning Traders Around The World"
Do You Want To Generate
100-200-300 Pips A Week?
If you start using the powerful Forex Trend Inticator revealed in this letter, you can make $1,650... $3,300... $4,950 from forex trading in just one week.
I'll explain more in just a moment... but first let me ask you a quick question:
Have you ever imagined...
...Making $4000, $6000, or $10,000 a month trading forex.
...Consistently and effortlessly generating more than 600 pips a month.
Well, I'm about to show you just how you can do that - and put an endless stream of money into your pocket... week after week... like a pro.
And I'll show you a simple, easy way to dramatically boost your trading profits, generate way more cash from your trend trading - double, triple, quadruple what you're making right now, and stop losing trades...
You see, I'm a trader, just like you. And I've been around the block for a long time with Forex.
I'm about to share with you the most powerful forex trend indicator that I developed through years of researching and testing. And I've never sold it to the public-- until recently.
Improve Your trading Performance...
This system consistently generates 93-557 pips ($930-$5570 in cash) per week.
You'll discover simple, easy-to-understand, easy-to-use and astonishingly effective techniques that help you jump in and jump out of the market with razor-sharp accuracy. And accuracy means cash in your account.
Here's a fact that only the best, most successful traders know about: You don't need complicated, confusing fundamental or technical analysis to trade successfully.
Powerful trend indicator based on sound, and well-tested concepts in trend have been working extremely well -- and will continue to do so for many, many years to come.
You see, one of the most destructive myths in trading is... you need to forecast or predict the future to make money in the forex market.
Nothing could be further from the truth.
The fact is... attempting to predict the future surely leads to frustration and costly failure. To be successful in trading, you only need to do two things:
Identify the trend
Join the trend with precise timing
The indicator that I'm going to share with you will do exactly these two things. First it gives you a simple way to identify the current trend. Second it helps you jump in the trend just when the time is right. That way, you'll maximize your wins, minimize your losses, and fatten your account.

Introducing...PW Trend Forex Indicator
A Trend-Following System That Works



Easy-To-Understand Forex Trend System

Never Had A Single Losing Month Trading

Potentially Make 93-257 Pips Per Week

Unlimited Support

Works For All Currency Pairs And Futures Flawlessly Execute Your Trades With
Ease & Confidence
Master this indicator and take your trading to the next level !
As I was putting the final touch on this indicator, I realized I was exposing one of the most lethal trading indicators around. Techniques and methods that would help traders - regardless of skills or experience - make a killing every day on the forex market.
Maybe you are like I used to be. I bought countless systems and indicators that simply didn't deliver, went to worthless seminars with $4000-$8000 price tags, and signed up to ridiculously expensive signal providers... But nothing worked.
Then I learned from my mistakes, developed and tested my own set of rules and signals that no-one else knew about and that I could use to consistently generate profits. And now, I'm finally exposing all of my secrets and custom trend indicator... to YOU.
This indicator is so powerful - it's almost unstoppable. Whether price's rising or falling, it works like a money machine that churns out pips for you - consistently.
The best part is, it's surprisingly simple. No one ever developed a system that's so easy to use. Within a few painless minutes, you can easily apply it to make your next winning trade.
And understand this...
PW Trend Trading Indicator will reveal some of the most profitable trading setups - that only a small elite group of successful professional traders are privy to. And believe me, they don't want you to know!
I'm not going to pull any punches, I will unleash this lethal trend indicator... so that you too can finally make a living trading forex.

Here are just a few benefits of this powerful profit-generating system:
Simple-to-use and easy-to-understand
Once you get this system, you can put it into action the very next trade. And immediately rake in the profits.
Step-by-step, carefully explained, tuned-to-perfection system
It keeps you in the profit, even when the market is volatile... rising... or falling...
Creating a virtually automatic "money-machine" that puts cash in your pocket!
The 2 Entry and Exit techniques- that will make you a better trend trader than most professionals!

Clear instructions...
No vague price patterns. No judgment involved. It's as easy as 1-2-3. See the entry setup, open the trade. See the exit setup, close the trade with amazing profit and precision.
Instantly improve your trading skills and understanding of price action...
Now you know exactly where price is moving with better accuracy. And pinpoint the exact market trend surge points.
You'll know precisely if price is going to trend, stall, or reverse...
Armed with this exciting indicator, you can enter the market just before the next big market surge. And generate massive profits.

Keep you out of most bad trades...
Are you red hot mad and frustrated putting on a trade just to see price immediately go against you? And lose money with those trades. It doesn't have to be that way...
...This indicator gives you only the best, the strongest trades that have the highest chance of winning.And at the same time keep you from making bad and costly trades.



Discover The Perfect Trend Indicator
That Really Works...
You see, many system and software sellers constantly mislead their customers by claiming that their systems have 90-95% success rate. I want to be different and therefore will refrain from making those kinds of outrageous and baseless claims.
My trading system is based on trend, logic, and rigorous testing. It's simple, stable, and consistently profitable. As you use this system, you will see for yourself that the accuracy is 70-75% and that on average each winner is twice as large as each unsuccessful .
With the purchase of this system,
you will receive

Very Easy Instructions on how to use the PWTrend Software.

The PW-Trend indicator for Metatrader (Download MetaTrader for free).

Charts with commentary so that you can understand the reasoning behind the setups.

One picture is worth a thousand words. Here are some real trades that I took recently on GBP/JPY and AUD/USD one-hour timeframe. These examples will give you an idea how this forex trading indicator works.
If you are serious about trading and don't want to go through the tedious "trial-and-error" process - if you want to never again experience the pain of losing your hard-earned money and the frustration of "leaving money on the table" - order this software and get ready to make money in the very next trading session.
Finally, with this powerful system, you'll no longer trade blindly. You'll have a framework, and methodology that allow you to flawlessly execute your trades without stress.

How Much Is Trading Success Worth To You ?
Picture what you can do with your newfound skills and trading power -- recognizing and capturing virtually all the hottest and most profitable trades. Imagine ... what it'd be like if you could fire off winning trades with rock-solid confidence and make consistent profits ...
So, you're now wondering how you can get this amazing system and what it'll cost you. If I listened to what others have told me to charge, you'd be able to get it for $497. And at that price, this would be a real bargain. This system is worth every cent of it.
Yet, for now you don't have to invest anywhere near $497. What I'm going to give you right now is a chance to get PW Trend System for only $97.
But ... there's a catch: This introductory rate of $97 is only for the next 150 17 people who purchase (150 copies at this low early-bird price have been taken, only 17 left). After that, I will be raising the price to at least $497. Once this special offer is gone, it's gone forever.
Note: If the order form below shows the price of $497 or higher -- that means you've missed out on this limited one-time-offer introductory rate.
Get the system and indicator because it'll change your trading forever. Other traders who made a wise decision to invest in PW Trend Forex System are now reaping the benefits and constantly pulling profits from the markets. You don't want to be left behind. Get

the edge

and

make money

, as they are all doing, right now.
---
TrueTL is a trendline indicator for Metatrader 4, which draws all trendline automatically. It's different than other auto trendline solutions for MT4: counts the beginning points from the actual timeframe's historical data, and the trendline ending is depending on the last visible pullback level.

It has two additional indicator:

- Trendline alert indicator with many configuration capabilities. It's working with all visible trendline on the chart, not only with TrueTL's.

- RSI trendline indicator which draws all trendline automatically on the RSI indicator window.
Why is it worth to use trendlines? Because it's a traditional tool, not a "no name" indicator for MT4. Professional traders keep on using it, in these days too.

Originally we made a trendline tracer script for ourselves in 2010. We've experienced wide interest in it, so we decided to create this MT4 indicator with some additional metatrader indicators, and we keep on developing them, based on our customers' requests and our own ideas.
watch on:
package:

TrueTL Alert V1.01.mq4
TrueTL V1.01.mq4
scmtf_rsi.mq4
scmtf_cci.mq4
![Script] Calculate Trendline.mq4
![Script] Hide Trendline.mq4

---
Trendline EA
A good Trendline EA that makes very good entrys at ALL Timeframes with trailing stop
it open buy and sell..
you will find it usefull
Expert Advisor for Metatrader 4 platform that will alert you when currency price touch/cross your trend or horizontal lines. EA is designed to work with two lines. You will have manually draw trendlines or horizontal lines on the chart.
Trendline Alert EA features
EA licence works on 1 Real account and any Demo account

EA is designed for Metatrader 4 platform

Can handle two lines: cross from below for BUY signal, the other from above for SELL signal

Sets different line colors when they are detected by EA

Sets different line colors when they are crossed up or down

EA can give alert immediately or only on candle close

Shows popup message, plays a sound and sends an email after price cross line(s)

Alert methods, sound, colors, line names, all can be configured to fit your needs

Any desirable features can be added individually for additional payment
Price for lifetime licence €80 EUR for single account
How to use Trendline Alert EA?
Draw trendline/horizontal line on the chart using Metatrader 4 drawing tools, open line settings window and set object/line name to BuyLineName or SellLineName

EA will change line(s) color after they are detected

EA will alert/play-sound/send-email when price cross the line. EA will change crossed line(s) color as well
Trendline Alert EA Inputs
BuyLineName and SellLineName
this is where you set line object names so EA would know how to identify them
BuyLineColor and SellLineColor
EA will set line colors to the values set in these variables once line(s) are detected. This is very useful as you will know that EA found your lines
CrossedBuyLineColor and CrossedSellLineColor
EA will set line colors to the values set in these variables once line(s) are crossed. This way it is easier to identify which line(s) were crossed when you go through charts
WaitForCandleClose
if this feature is set to True EA will wait for candle to close to check if lines has been crossed, otherwise EA will alert immediately
Alerts
if this feature is set to True EA will show popup message when lines are crossed
Sounds
if this feature is set to True EA will play a sound specified in SoundFile when lines are crossed
SendEmail
if this feature is set to True EA will send an email when lines are crossed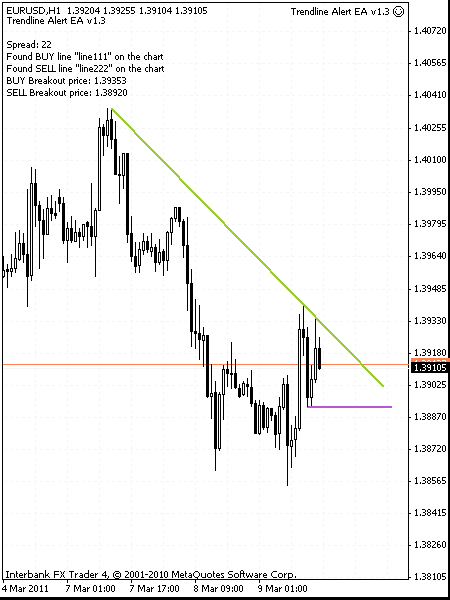 Trendline Alert EA in action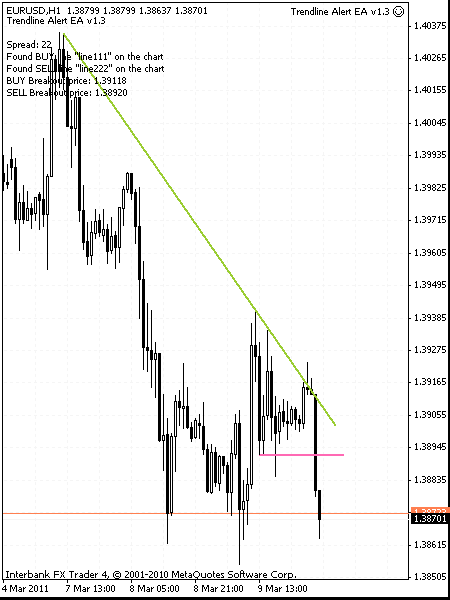 Price cross lower trendline and candle closes below. EA immediately alerts you about this event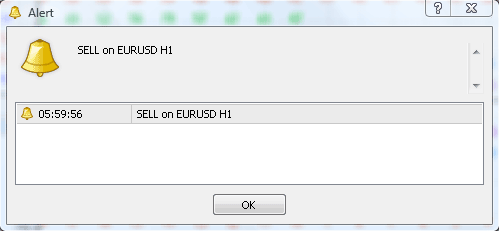 "perfect packages with a perfect offer"1 great price for 2 superbs systems!

---
Delivery to your PayPal email address within 24 Hours of payment confirmation.
Completing units:
P/W forex Trend indicator and Manual

BONUS True Trend Line indicators

BONUS TrueTL expert advisor
Market Sales Price: $299,but we sell lot more lower than that to share the opportunity with you!
---
Serving Professional Traders Since 2008
Once purchased I will email you the files within 20 minutes and not more than 48 hours to your email, if there a delay, please be patience receiving your files
Write Review
Your Name:
Your Review:
Note:

HTML is not translated!
Rating:
Bad
Good
Enter the code in the box below:
There are no additional images for this product.